Cybersecurity best practices for SMB doesn't stop with your MSP
When it comes to protecting your small-to-medium-sized business (SMB) against cyber attacks, your managed service provider (MSP) can only take your cybersecurity so far. It is best to always remember the first line of defense is the user. User error is the greatest risk that exist in businesses everywhere. Many SMBs assume they are completely protected if they work with an MSP. As a result, they let their guard down and do not take appropriate safety measures to protect their company's network and data.
It is important to note that while your MSP is aware of cyber threats and risks that can overwhelm or destroy any sized business, they should also empower their clients to take some preventive measures on their own. If cybersecurity training is not one of their MSP's complimentary services, clients should ask for it. If clients are not properly trained in IT security prevention best practices, all the security prevention measures set in place by the MSP could be futile. Again, user error is the greatest risk that exist in businesses.
An MSP should help businesses identify and improve their IT security and help them navigate cybersecurity best practices. It is an MSP's mission to protect and secure a clients' data and networks and act on their best interest while providing outstanding service. In doing so, they need to always be very proactive in meeting their clients' IT needs and help them modify their behavior when it comes to reaching a business-grade security posture.
What business owners don't know, can and will hurt them. Network audits, cybersecurity assessments and training should be done at a minimum of at least once a year so they can understand their security position. They may not realize their networks have unpatched security vulnerabilities, malware, insider misuse or human error which could lead to a data breach. The average cost to small companies on average for just one attack is now $200,000 as of this writing – more than enough to put them out of business.
There is a common misconception by SMB owners. They tend to think that because they are smaller than the big guys, they are less vulnerable to a cyber attack. The fact is that if a business has a digital footprint, they are a target.
Businesses and individuals alike are vulnerable, and everyone needs to be diligent in cyber awareness and best practices to protect their business, themselves and their families. There is no magic bullet or single piece of technology, such as antivirus protection, to avoid cyber criminals.
Because of this, it is possibly the MSP's greatest challenge to overcome as their clients assume their firewall coupled with their MSP services guarantees they are fully protected.
It is a combination of a professional security services as well as employee best practices that are significant in protecting a company from cyber threats. Hence, this is where cybersecurity training plays a major role. Clients need to be made aware of their online responsibilities versus what their MSP's and what their software can and cannot do.
After a business takes steps to hinder cyber criminals from infiltrating their system, they also need to have a disaster readiness plan in place to help mitigate and recover from an attack.
In Conclusion
Recent trends show a huge increase in cyber attacks in 2021. They are continuing to escalate, especially with more inroads due to workforces working remotely because of COVID-19. Nowadays cybersecurity services are no longer a luxury for a business but are essential.
Trusted MSPs are tasked with making sure their clients are fully aware of how well they are covered on an ongoing basis. Providing client training and having risk-focused conversations is beneficial to them and prospects. It allows for a true understanding of the current threat landscape and empowers them in all things cybersecurity. This way all stakeholders are in alignment and armed with the tools they need.
Lastly, we would be remiss if we failed to advise you the importance of using strong passwords. From the chart below, you can see just how easy it is for a hacker to break one. Note the more characters, numbers and symbols, the more secure. At a minimum, we recommend at least 12.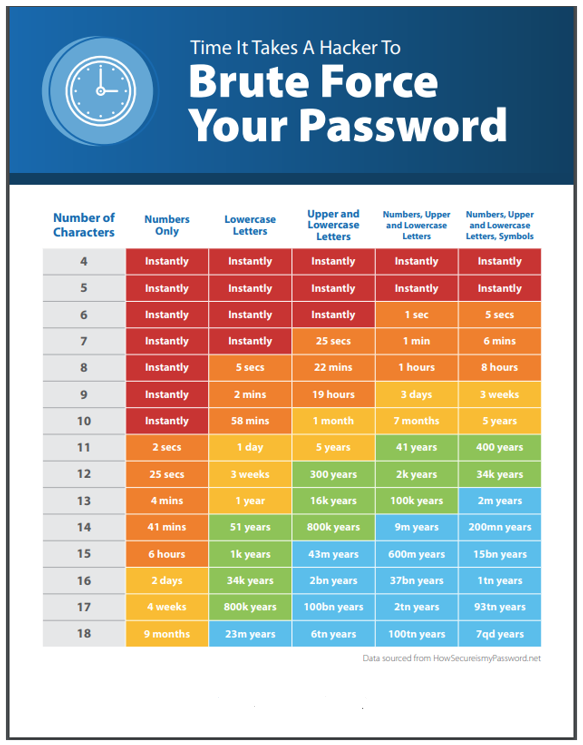 If you are a business and want help with cybersecurity solutions for your SMB company, we can help meet your company's unique demands. Connect with a Client Success Manager to schedule a time to discuss your needs and how we can meet them.
Talk with an OrlanTech expert
Discover reliable advice and fast support
Be safe, secure and productive