Using Microsoft Teams while working from home (WFH) and in the office
Microsoft Teams (Teams) is built into Microsoft 365. It is a robust platform that serves as an instant messenger, a file-sharing platform and a collaboration tool that allows members to join in on documents and spreadsheets to work together and make edits while chatting and leaving notes. From multiple devices, you can also setup calls and meetings. It integrates with 140-plus apps and services.
Teams allows you to collaborate in one place whether you WFH or in the office. You can connect with your teammates (and guests) regardless if you are six feet apart or across the globe without compromising privacy and security. Its business model was originally designed for various organizations and industries. Recently Microsoft 365 launched a new personal and family plan for home and family resources.
Without going into all of the functionality Teams offers your business or organization, here we share some very basic information and tips. For instance, you can setup Channels for various departments (HR), projects (office party), topics (sales), etc. and make them pubic (open to everyone) or private (open to only the select group).
These are only some of the features in Teams you can use at the office or for your remote workforce.
Conference Calls and One-on-One Teleconferencing

Teams has a dynamic a Calls feature that is open to your team members (and guests also) without security issues you could encounter with Zoom or some of the others. Team's Call includes speed dial, voice mail, your contacts and history. You also receive notification when callers join and leave. If an individual does not join a call, a notification comes in handy if they miss important information and you need to follow up with them.

Chat, to call, to collaboration by sharing your desktop. In Chat, you can schedule a call or an online meeting with the person you are having a chat. In Calendar, you can also choose new meeting/live event.

Want to record the call so you and your team can listen/view later? Anyone from the same organization can start/stop recording. The recordings are saved to Microsoft Stream, by default, for seven days and accessible with the link that is sent to the originator. Only team members can view/listen, while guests and external attendees can only view the recording if it is explicitly shared with them.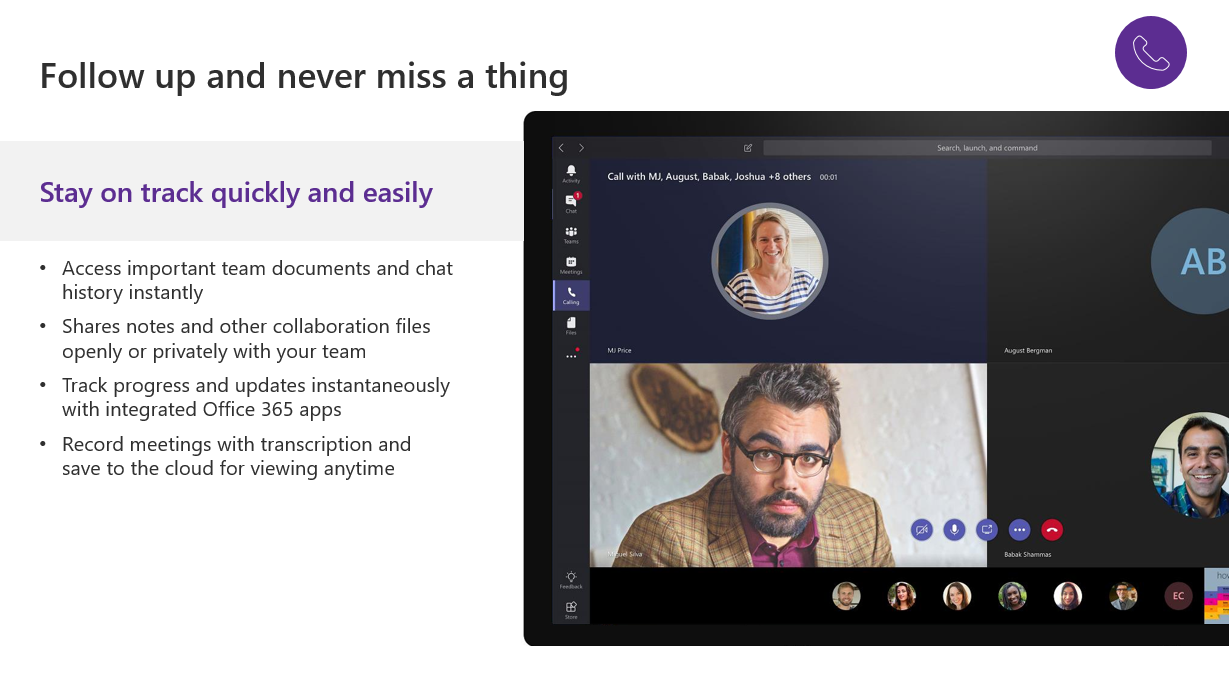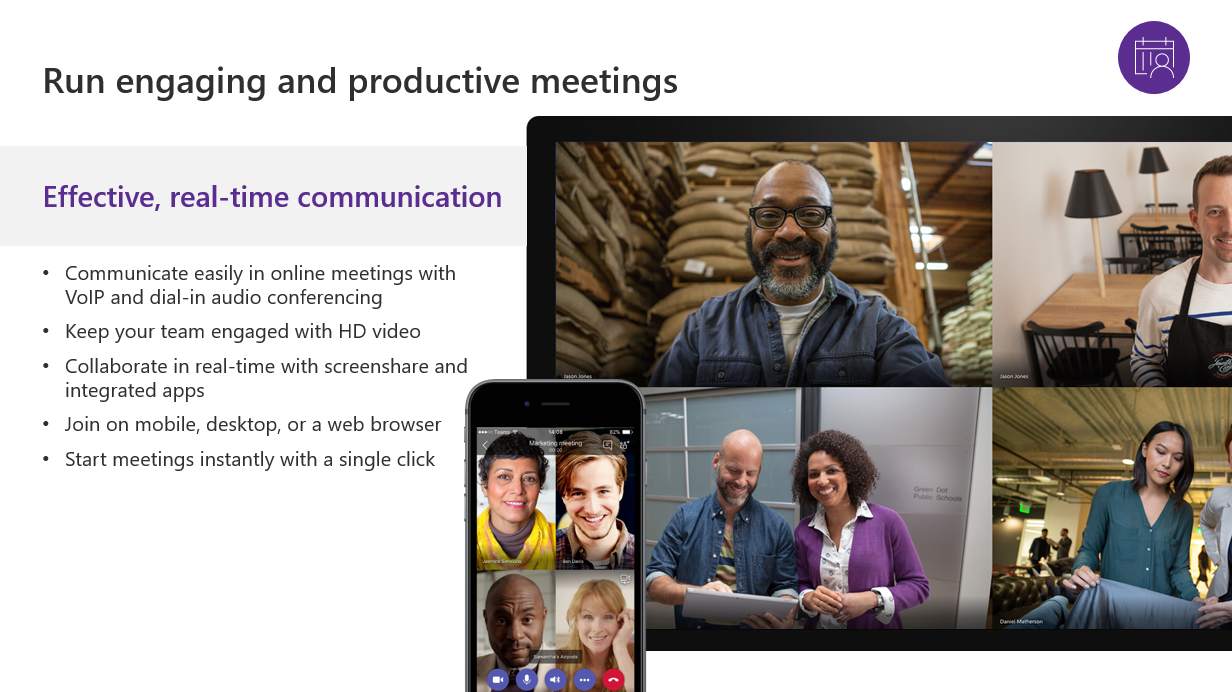 Share a chat or channel conversation

Teams and Outlook are integrated. Users can move an email conversation from Outlook to a Teams chat and vice versa with the click of a button. This cuts down the number of emails in Outlook.

Add tags to names

It is easier than ever to communicate with a subset of people on a team by using tags. Team members can be assigned more than one tag. The tags are useful in @mention in a channel post or anyone on the team to start a conversation with only those people who are assigned that tag.

Sync files to your PC or Mac

Users can sync files directly from Teams to their computer. Files can be accessed from a Channel with a preview of more than 320 files types to view, pin to the top, check out and more. In addition, users can save files directly to their devices from a Teams message or collaboration.

Users can make changes in files on demand while working with others. In each channel, files can be uploaded to a library that is accessible to everyone in that channel. When a file is open, others in that channel can see a user working in it. Changes are made and saved in real time. This feature can be also be used to collaborate with people outside the company.

Create an emergency contacts channel

In Teams, create an emergency contact channel in case of crises. Request all team members regularly update their cell phone numbers, emergency contacts and personal email addresses should they or their emergency contact(s) need to be reached. It is also beneficial having the ability to make phone calls through Teams so that team members do not have to make or take business-related calls on their personal cell or home phones.
To learn more about Microsoft Teams, go to their online tutorials. Teams has the productivity and security from Microsoft 365 your business can greatly benefit from, and we can help to make it work for you based on your company's unique demands. Connect with a Client Success Manager to schedule a time to discuss your needs and how we can meet them.
Talk with an OrlanTech expert
Discover reliable advice and fast support
Be safe, secure and productive