Don't be fooled by unwanted appointments showing up on your Google calendar
People are on the move again. Vaccinations rates are up and COVID numbers are down, and a lot of people are traveling, especially now that pandemic restrictions are easing. Maybe you are planning a trip but haven't scheduled your air travel, yet somehow flights are showing up on your Google calendar. Wait, is that really where you plan to fly, and when? How did flights mysteriously appear on your calendar when you did not schedule them nor accept any invitations to add them?
The answer is that it's a SCAM. Hackers are taking advantage of Google's default calendar settings to insert phishing links to lure users into clicking on malicious links. Yes, of course you are familiar with spam emails, texts and pop-up messages and ads, so this type of spam activity might be new to you. Either way, phishing attacks via Google's calendar have been going on for quite some time now.
It works like this: A hacker sends a Google Calendar invitation that contains a spam link and/or content that automatically creates an appointment on your calendar by default (more on this later). Although the invitation is sent to your inbox, it's possible you could miss if it lands in in your spam folder – until you find it on your calendar.
If it's a flight, like the example below, it's disturbing. No matter the type of calendar appointment, the link inside of it is spam and will take you to a website created to steal your credentials or download malware on your device. Albeit an appointment, meeting etc., you must respond. Should you decline, it will turn into a crossed-out event, which could have been sent as a daily appointment. The best thing to do is to mark the questionable appointment as spam. This will remove it and report it as spam at the same time.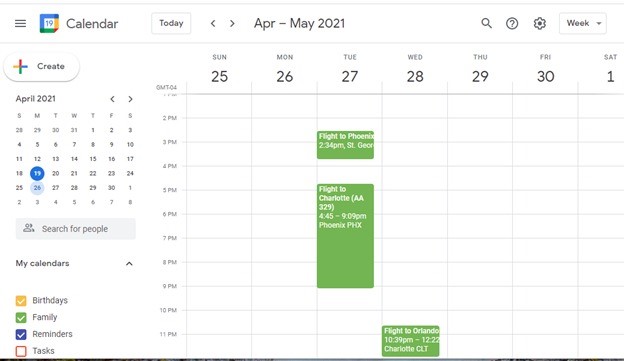 Cybercriminals are known for exploiting potential victims by whatever means they can, if it's phishing email, text, spyware, malicious websites, robocalls and more. As it relates to calendar spam, you can put a STOP to invitations automatically showing up on your Google calendar. Sign into your Google Calendar account and click on the gear icon in the top right-hand corner. Select Settings and scroll down to "Event settings" in the left-hand menu. Use the dropdown menu under "Default guest permissions" and select "No, only show invitations to which I have responded."
To further stop any events sent to you in Gmail from automatically being added on your calendar, click on "Events from Gmail" in the left-hand menu and uncheck "Automatically add events from Gmail to my calendar." When done, you'll get a pop-up that reads, "You'll no longer see events automatically added from your email. Previously added events from Gmail will be removed." Click okay.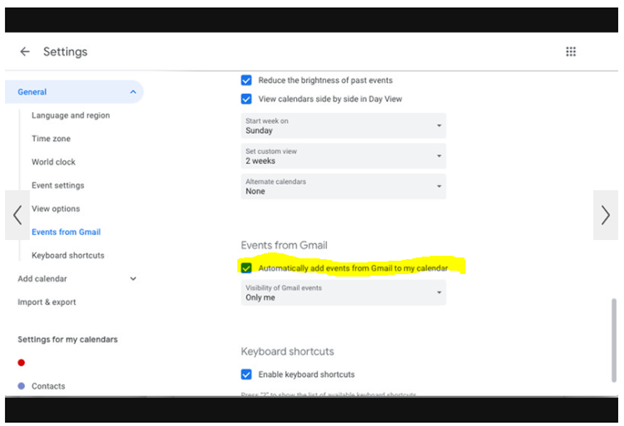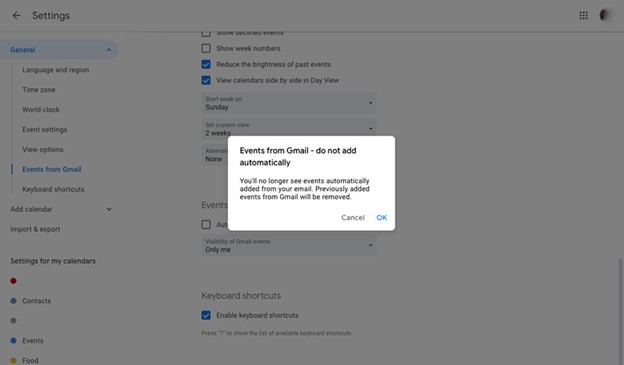 Going forward, the only events that will show up on your calendar are the ones you created or the invitations you have accepted. Unfortunately, on your phone unlike on your desktop, in the "View options" on the left-hand menu, you will need to uncheck "Show declined events" to make sure they do not show up there.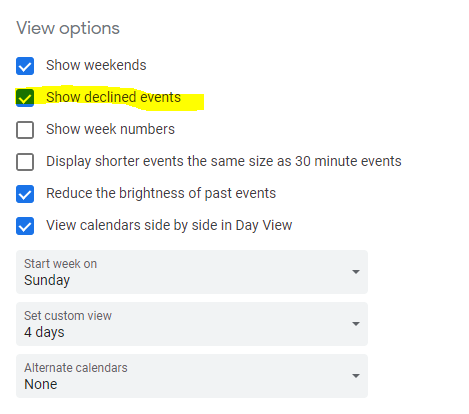 Lastly, if you are one who needs to be reminded of your appointments on your Google calendar, go to the "Notification settings" in the left-hand menu, and choose the reminder options available that work best for you.

In Conclusion
We hope you will implement some or all of these Google Calendar tips help to manage your invitations. During the interim, if we can help you with your company's unique IT demands, Connect with a Client Success Manager to schedule a time to discuss your needs and how we can meet them.
Talk with an OrlanTech expert
Discover reliable advice and fast support
Be safe, secure and productive